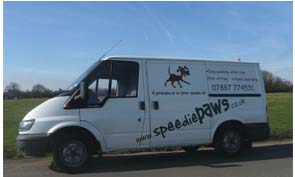 Daycare:

Dogs can be dropped off and collected at the usual entrance, we will take your dog in and you can retain their lead.
Take your dogs lead home with you.
Gate handles will be disinfected before opening each day.
Please be aware of maintaining social distancing if you arrive at the same time as someone else
Dogs will be transported in the van as usual, crates will be disinfected at the end of each day.

At the end of the day, please bring your lead.
Hand sanitiser is used when leaving or returning to the premises by staff.

Regular hand washing on the premises is observed.
The team have been following Governement Guidlelines during the lockdown.
Dog walking:

We will collect dogs from your garden or front door. we will not be entering people's houses, unless you are out at work and by prior arrangement only.
Hand sanitiser will be used after leaving the van, before coming to your door.
We will ring the bell and open the door and call the dog, or you can bring the dog to the door, or garden.
We will use our own leads.
The vans are disinfected at the end of each day.
Training:
Please observe social distancing rules when you are parking, walking to the field and coming through the gates.
Please use your own hand sanitiser before you come into the field.
Once in the field please set yourself up at the 2m markers already laid out at the field.
Do not touch the gates on the way into the field, I will manage the gates.
Do not touch any equipment.
You will need to manage your own toys, rewards for your dogs.
Avoid stroking other people's dogs.